Shot of the Month – June 2017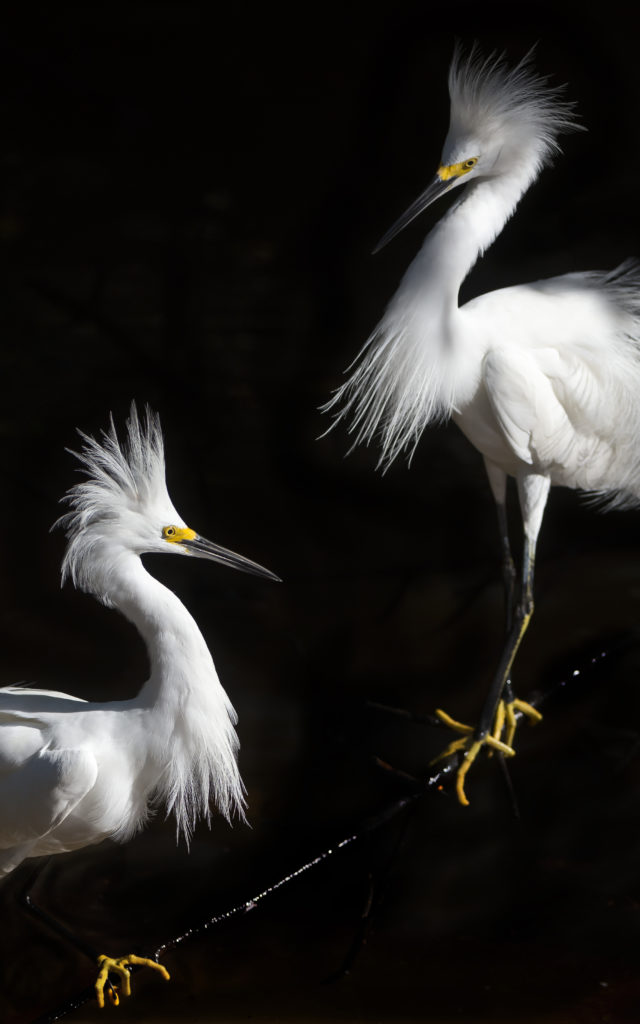 So no, I don't have a studio — this image was actually shot in the wilds of nature at the Ding Darling National Wildlife Refuge.  These lovely Snowy Egrets (SEs) had gathered en masse with a large collection of other herons and assorted egrets during a feeding frenzy along a dark mangrove channel.  In order to properly expose for the pure white bird, in bright sunlight, I had to significantly underexpose the shot — which produces this dramatic "studio" look.
This image was shot in December when the SEs are beginning to morph into their exquisite mating plumage — during this period they develop long wispy feathers on their backs, necks and heads.  As the season progresses the coloration on their faces will transition from yellow to reddish.  And those bright yellow feet will take on a richer orange-yellow hue.
In the late 19th century Snow Egrets were almost wiped out as they were decimated by hunters collecting the breeding plumes for use in women's hats.  In 1886 these plumes fetched $32/ounce which was twice the value of gold at that time.  During the "Plume Boom" hundreds of millions of birds were killed — for example from 1901 to 1910 over 14 million tons of feathers were shipped to the United Kingdom with a value of 20 million pounds.  Wow, that's a lot of feathers. (source)
And a lot of dead birds.
Fortunately, the Migratory Bird Treaty Act of 1918 curtailed much of this slaughter and today the population of Snowy Egrets and other herons have improved quite a bit.
Snowy Egrets eat mainly fish, frogs, worms, mice, crustaceans and insects.  They typically stalk prey in shallow water, often running or shuffling those brightly colored feet, flushing prey into view.  They will also sometimes catch prey while "dip-fishing" as they fly with their feet just over the water.
Snowy Egrets are are permanent residents in most of South and Central America.  In the US they can be permanent residents along the Atlantic coast north to Virginia Beach, Virginia, along the Gulf Coast and along the Pacific lowlands from central California southward.  During the breeding season snow egrets can be found as far north as Rhode Island.
With its lovely, delicate and refined looks one could easily imagine a Snowy Egret as a runway model.  Rather ironic given that high fashion almost wiped out this elegant bird.
Silly, terrifying humans…
Until next month.
Nikon D4s, Nikon 200-400 mm (@ 200mm), f/4, 1/4000, ISO 400, -1.5 EV