Shot of the Month – July 2014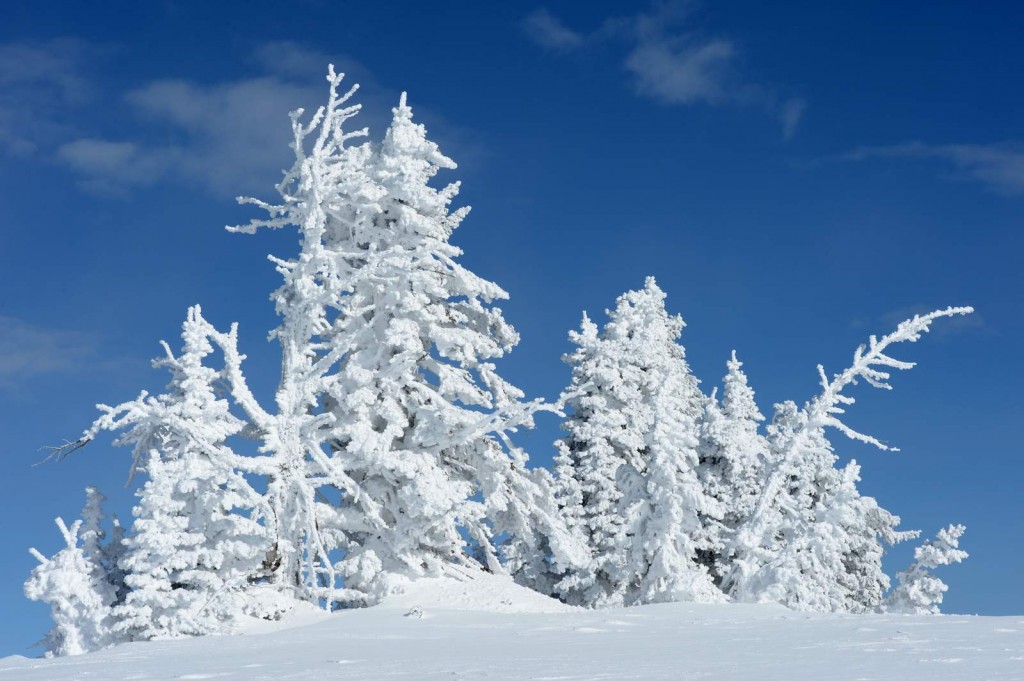 This month a visual "snow cone" to help get you through the dog days of summer.  As the sweat runs down your back, soak in this image and let the cooling begin.
Creating snow sculptures out of trees requires juuust the right sequence of weather events.  First you need a lot of snow.  This image was taken at Targhee National Forest in Montana which is right next to Yellowstone National Park so the snow part was not too hard to come by in January, when this photo was captured.
Next you need the temperatures to stay below freezing to keep the snow from melting.  And lastly, you need the clouds to move off so you can have clear, blue skies.
Mother Nature smiled upon us and the elements all fell into place near the end of our one-week stay.  On the last day of our trip we climbed to 9,000 feet to the top of Two Top Mountain and found this spectacular, Daliesque winter scene.
I have never seen a sky so Blue.  Nor Whites, so white.  As the morning sun rose, so did the temperatures, and the magic quickly began to melt away.  But for a few hours we had the fortune of visiting a special place that only exists, ever so briefly, when imagination and meteorology become one.
Until next month…michael
Nikon D4, Nikkor 70-200mm f/2.8 VRII (@ 78mm), f/16, 1/350s, ISO 200