Colorful Creation – September 2012
Shot of the Month – September 2012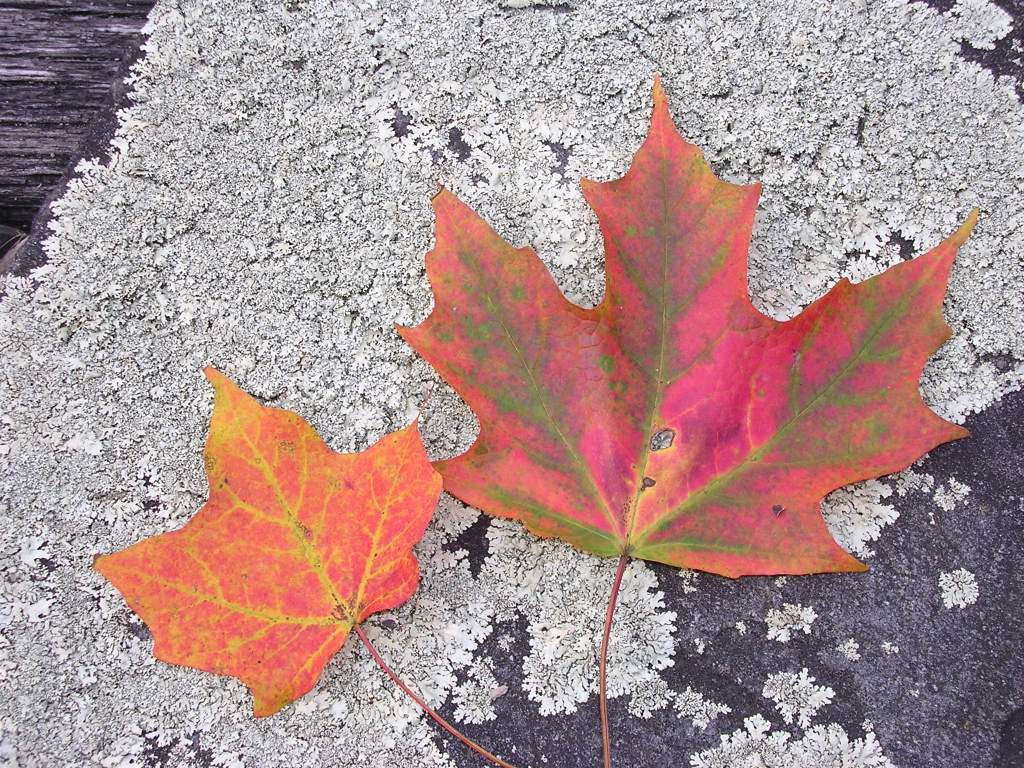 An image of colorful leaves in September — seems pretty normal, if a tad overdone.  Other than the subject and the timing, everything else about this photo is pretty unusual– for me.
First, I "made" this shot, rather than "finding" it.
Typically, I go out into the world and look for wildlife or "wild" scenes and try and be in the right place at the right time and capture what unfolds before me.  That is not the case here.
While visiting a friend in upstate New York, close to  10 years ago now, we went for a walk in the woods.  I found these leaves, separately,  and picked each up.  I didn't know what I would do with them, but I liked their looks and carried them along.  Later, back at my friend's house I noticed a lichen covered rock slab on a piece of wood on their deck.  Inspiration struck and I placed my leaves just so.  Click.
Another unusual feature of this image is the camera I used in capturing it.  It was not one of my big, "serious" cameras.  Rather I shot this with a Nikon Coolpix 3100 – a little 3.1 MP "beginner"  point-and-shoot camera.    Not very sophisticated to say the least.
The last unusual feature of this shot is that is a "still life."  No critters, just a scene.  Just not something I do very often.
For all these reasons I love this photo.  I was not only witness but also part creator.  That gives me a buzz.  And it was so EASY.   It doesn't seem fair — feels like cheating.  So different – a shot that took me out of my comfort zone.  And I just really like the shot.  I am amazed how nice it looks — I love the hues of the leaves, and the contrast between the vibrant colors and the muted wood, stone and lichen.  And I love the different textures of the muted background.
And I dig this photo because it reminds me that I don't need fancy equipment or go on long trips to find or make beauty.  It is often nearby — simply the right attitude and openness to "seeing" can suffice.
Until next month…