Flamingo Sunset? – October 2010
Shot of the Month – October 2010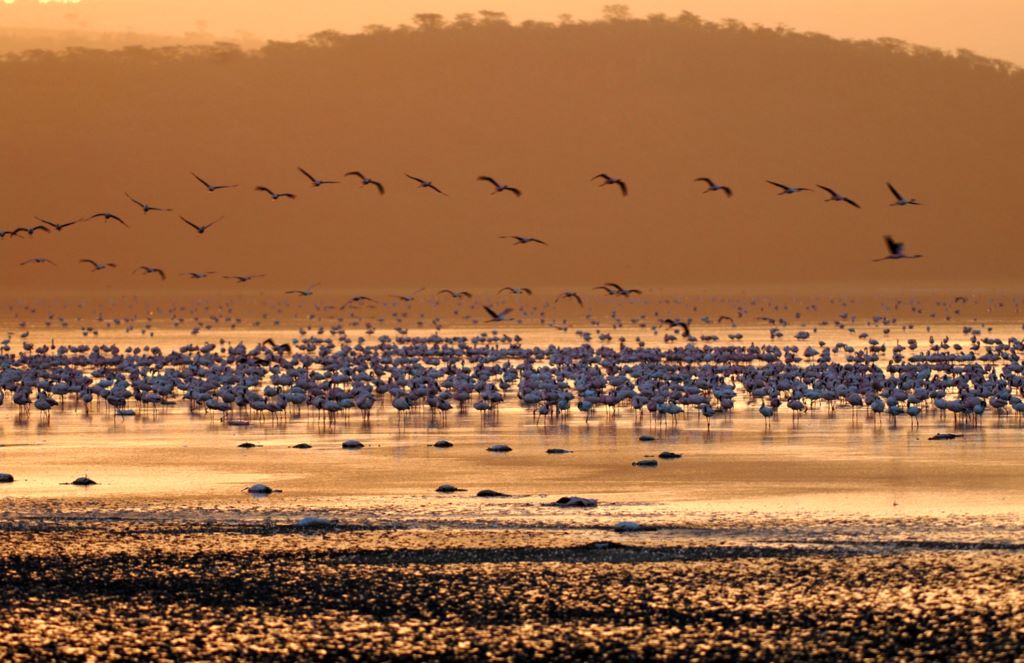 This month a lovely scene that pretty much speaks for itself.
Photographically I didn't have to do much to capture this one.  It was a late afternoon as we drove along the edge of Lake Nakuru.  We stopped to look at some critter and when I glanced back and saw this scene, in this light, I knew we had something special.  I quickly threw a bean bag on the roof of the vehicle, steadied the camera on the bean bag and fired off a few shots.  As if on cue some obliging flamingos took flight and added a nice element to the photo.
LakeNakuru, located in Kenya, East Africa is a natural wonder in that it can attract thousands, and at times millions of flamingos to feed on algae found in the alkaline waters.  During these times the lake becomes a noisy, turbulent sea of shifting waves of pink.
The lake is also home to over 400 types of bird life and the areas around the park contain an amazing diversity of wildlife including lion, leopard, giraffe, water buck, impala, and other assorted grass eaters.  The park is also a rhino sanctuary and is home to over 100 of the prehistoric looking beasts.
I have been to many wildlife parks in Africa and few can rival the quantity and diversity of life, and the amazing range of smells, sights and sounds of this small jewel of a park.  It is one of my favorites.
It is unclear however if this ecosystem can continue to thrive.  The population of flamingos has waned in recent years and many fear that the pollution from the growing, nearby town of Nakuru and the run-off of pesticides from agricultural lands is destroying the habitat.
With human population now at seven billion, and rising, the dilemma facing Lake Nakuru is being repeated with natural habitats across the globe as the expanding human footprint pushes other life forms onto shrinking, increasingly isolated and fragile sanctuaries.
Until next month…