Shot of the Month

Shot of the Month – November 2017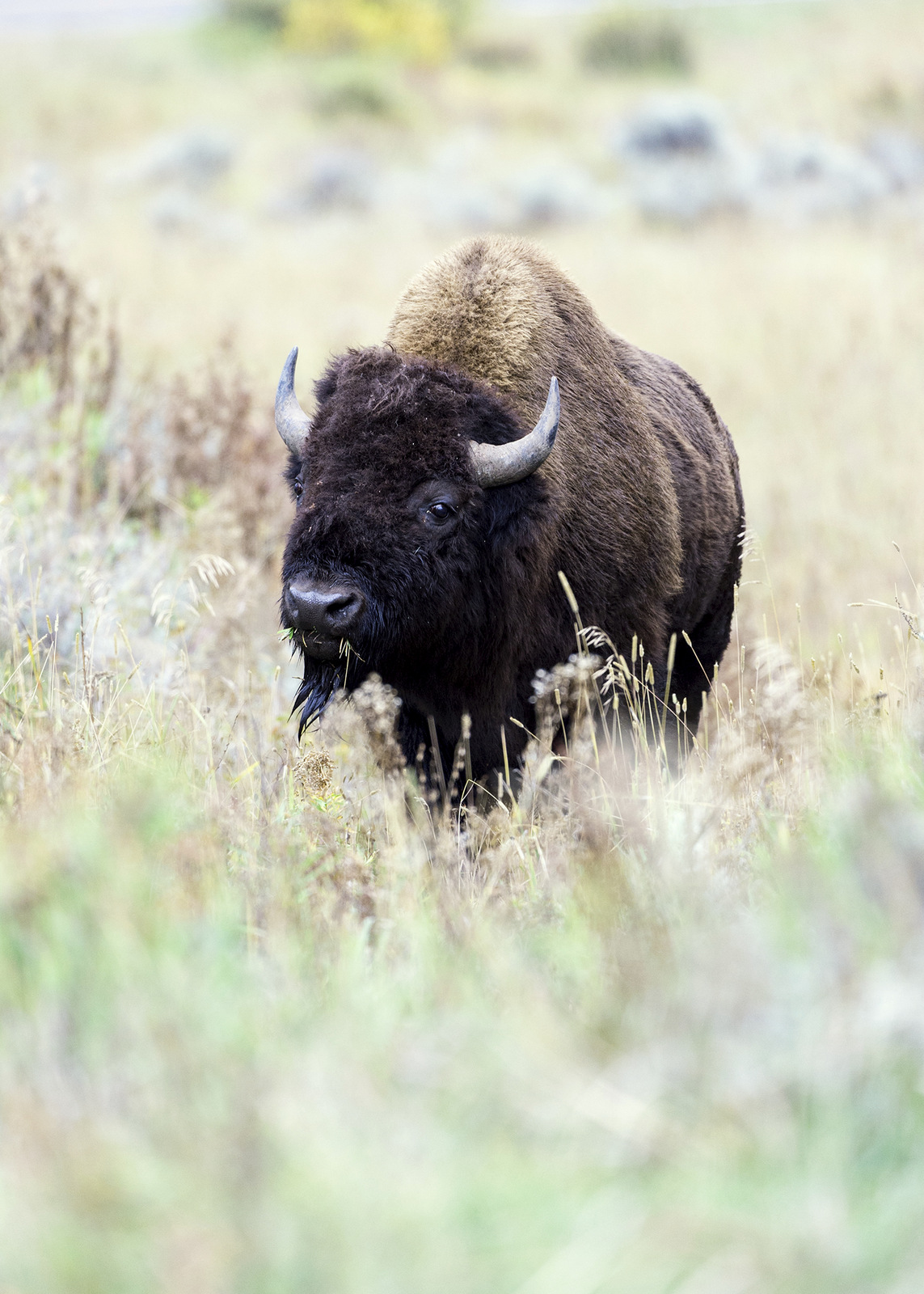 One of the great challenges of photography is that our images are forever trapped in a two dimensional plane.  Alas, this often renders our images a poor representation of our richly three dimensional world and many images can look flat and, well, boring.  While we can't overcome the physical realities of this space-time conundrum, we can use some nifty composition techniques to create the appearance of depth in our photographs.
For example, I have dozens of photographs of bison — most of which are pretty mundane — a large brown creature not doing very much.  But look at this image — wow, I love how my eye is drawn in.  There are so many layers that the image becomes much closer to giving a sense of our 3D world.  With this image we don't just observe, but we are actually pulled in and explore the space.
How did we get so much depth in this shot?  Let's break the image up into different zones as shown in the image to the lower right and see how they build depth into the scene.
Depth of Field
By using a wide aperture on my lens the resulting shallow depth field leaves only the bison in sharp focus. Our eyes are naturally drawn to elements that are in sharp focus.   In this image the bison really pops compared to the grasses in front and behind her, and provides a sense of depth. (Zone 3)  For the basics on understanding depth of field, click here.
Foreground
By including a visual element in the foreground of the image one can add depth.  In this image the out-of-focus green grass provides that first layer to the image. (Zone 1)
Layering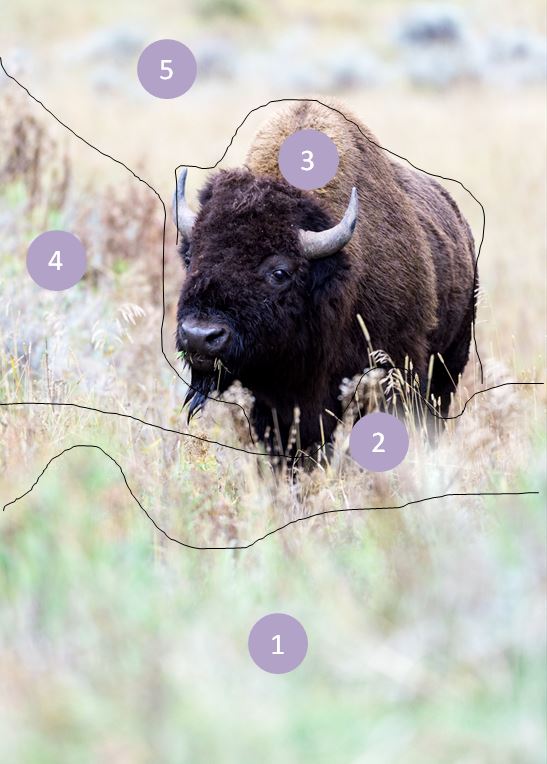 Images with the greatest amount of perceived depth will include elements in the foreground, middle ground, and background.  In this image we have the green grass as foreground, the bison in middle ground, and the out of focus, but visible bushes of different color, in the background.  Zone 1 is out of focus and green.  Zone 2 is still out of focus but now a different color.  With zone 3 the bison's is in sharp focus compared to all the other zones, and its rich brown color also provides a clear distinction.  The color transition of zone 4 from front to back and the verticality of the brown plants in the rear of this zone lead the eye back away from the bison to the empty plain and colored bushes in zone 5.
Overlapping Elements
By having elements in different layers partially block elements behind it one creates the impression of depth.   The green grass in the foreground is the first barrier to entry and then we have that yellow grass just before the bison that partially obscures the massive beast.  It doesn't seem like much, but that little bit of yellow grass in front of the bison does a lot to help add a sense of depth to the image. (Zone 2)
Shoot in Portrait
Shooting in portrait helps encourage seeing depth.  How so?  Well, look straight ahead and then move your head from side to side.  Your eyes will naturally fall on objects which are about the same distance away.  But if you move your head up and down, now your eyes will focus on objects at varying distance from very near to very far away.  Shooting in portrait recreates that dynamic and can help you to create more depth in your image. (source)
These are just a few of the techniques one can use to create images that people will want to reach out and touch because they seem so real.
Photographs often act like a mirror, providing a two dimensional reflection of the world.  With a bit of vision and technique we can transcend these flat worlds much as Alice did when she walked through her looking glass into a fantastical world of adventure.  Try some of the these techniques to get beyond photo to portal and transform your photographic reflection into a full bodied world rich in layers and depth that the viewer will want to leap into and explore.
Here is a very good article with great examples on how you can work a scene to infuse more depth.  And here is an article with more techniques that you can use to create depth.
Until next month….m
Nikon D4S, Nikon 200-400mm (@400mm) f/4.8, 1/1000 s, ISO 1000,

Shot of the Month – October 2017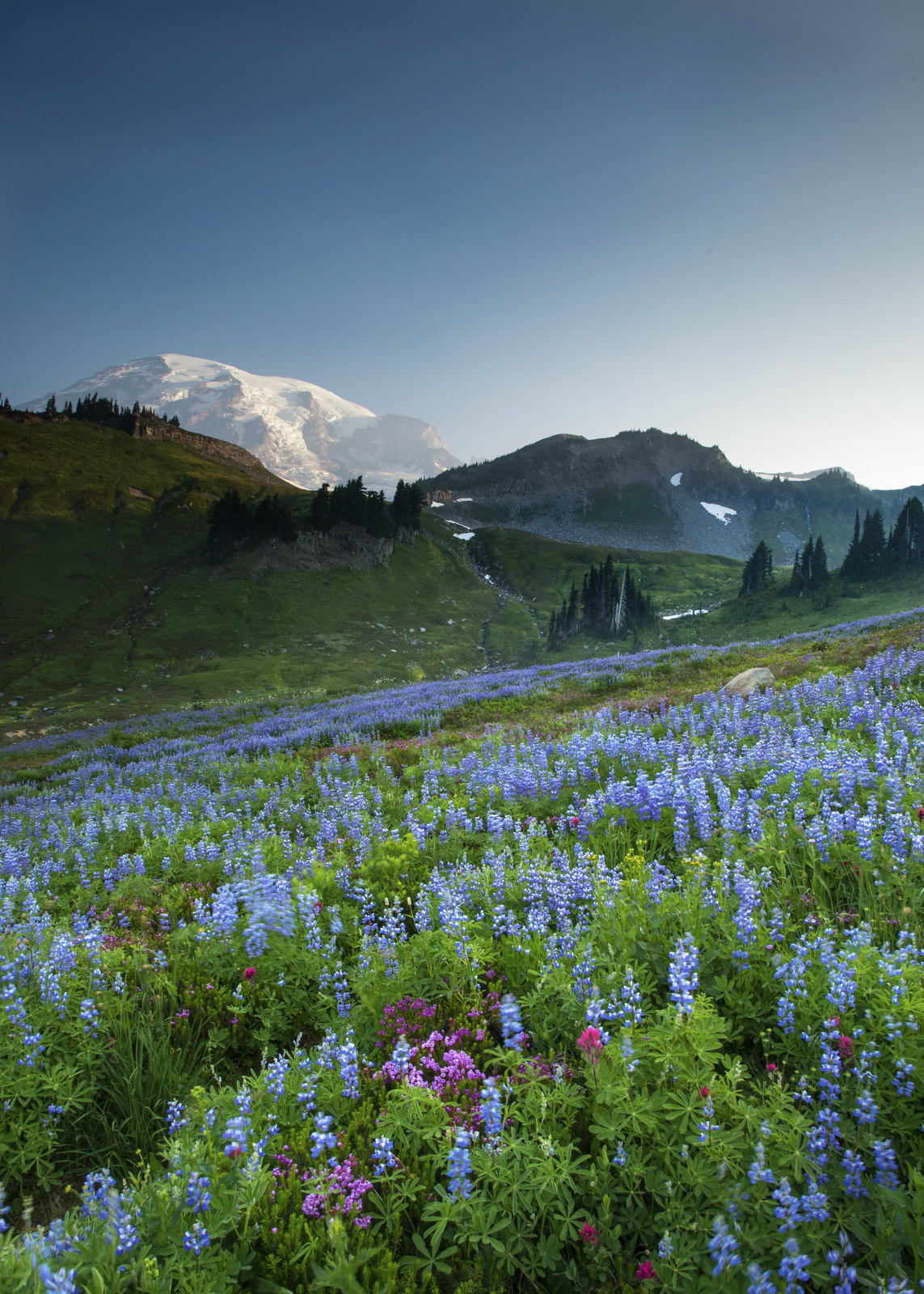 If you love color, check your calendar and your compass as it is likely that Mother Nature is putting on a glorious show somewhere near you.  In the northeast of the US the best time is in the autumn with the fall foliage.  Here in Washington state there is a lovely explosion of color in the meadows near Mount Rainier each summer.  How good is the display?  Well, Bob Gibbons, in his book, "Wildflower Wonders: The 50 Best Wildflower Sites in the World" lists Mt. Rainier as the #1 location to visit!
The best to time to see the show?  Well, Mother Nature is an artist and is not fond of strict schedules and the like.  She creates as the mood suits her.  This mountain park is divided into three zones by altitude.  Dense forests cover the low to mid elevations of the park from 2,000 to 4,500 feet.  The cool, shady conditions found here suite wildflower species that won't be found higher up.  These flowers tend to bloom earlier in the summer.  Next we have have the subalpine zone from 4,500 to 6,500 feet.  The subalpine zone often has the most impressive wildflower displays because the growing season is so short here.  Snow can linger in the subalpine meadows into June and even July — so the flowers need to burst out as quickly as they can before the snows return.  Climbing higher is the alpine zone from 6,500 feet to the summit of the mountain.  There are a few hearty flowers in this zone but it not where you want to be for the most color. (source)
The "peak" bloom for subalpine wildflowers is heavily dependent on weather and precipitation patterns.  Typically, most flowers will be blooming by mid-July and by early August the fields can be bursting with color.  But some years the peak happens in late June.  Also, climate change is also starting to impact the timing and seems to be shifting the bloom to earlier in the summer.  So far I have found the 1st or 2nd week of August to be the most colorful.
What will you see?  Mt. Rainier has hundreds of species of wildflowers — a cornucopia of blues, purples, oranges, reds,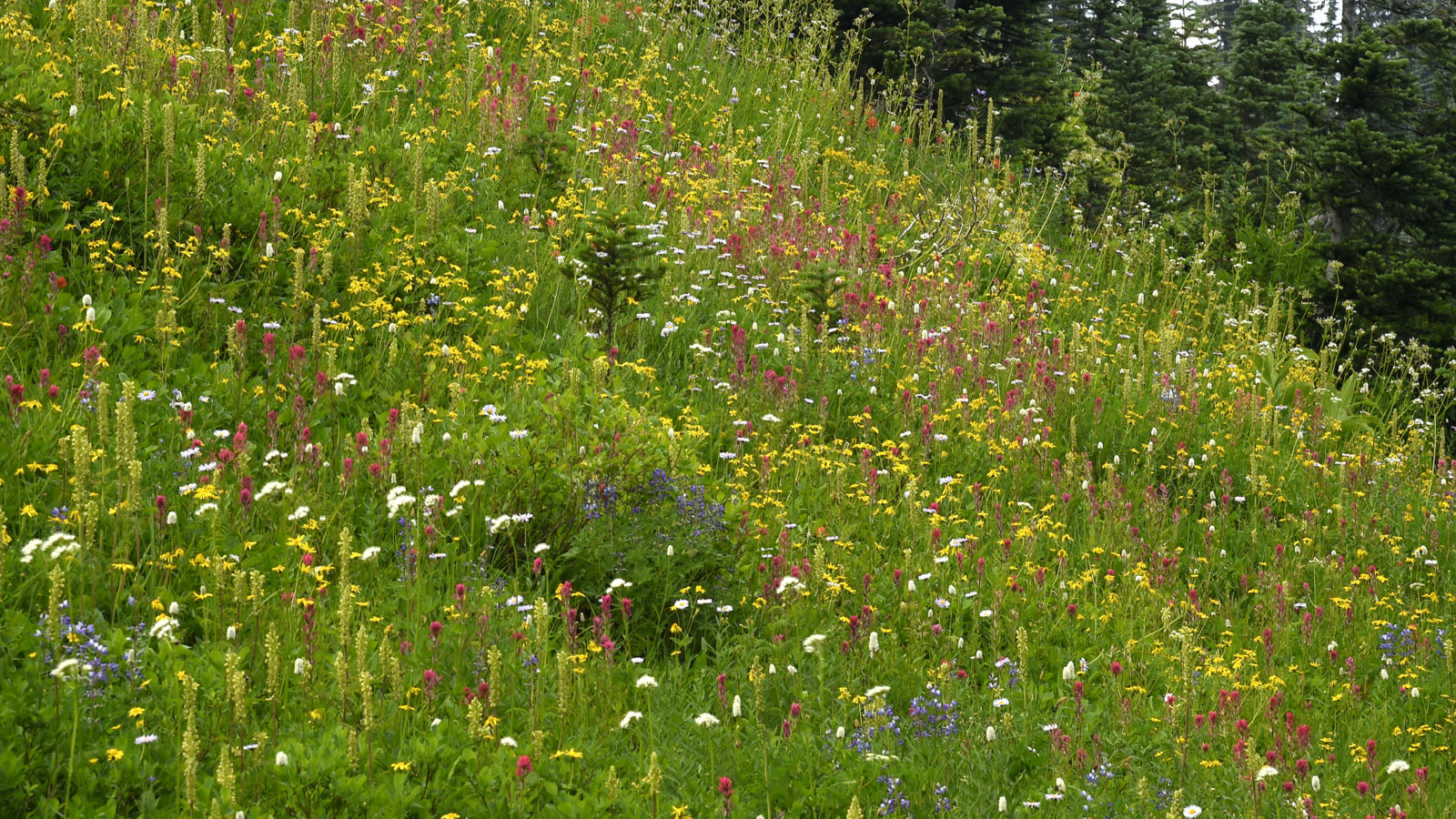 whites, greens, pinks and on and on.  In this quiet, peaceful sunrise image above we look over a long sloping meadow dominated by sub-alpine lupines (purple) that leads to a snow covered Mt. Rainier off in the distance.   There are also dashes of red (Scarlet Paintbrush) and pink (Pink Mountain Heather).   Come on a different day, at different time of day, on a different trail and you can see a completely different color palette.  Here to the right is a rambunctious burst of afternoon color dominated by yellows (Broadleaf Arnica and Bracted Lousewort)) and reds (Scarlet Paint Brush) amongst others.
The canvas literally changes by the hour.
If you do dig your hiking boots out of the closet to take in a mountainside color exhibition do take great care.  Mountain willdflowrs are exceptionally fragile.  Each step you take off trail can crush 20 plants.  Even if a plant survives the weight of your footstep its growth can be stunted for years!!  Stay off the artwork!!
A few resources:
Here is a good article on planning a trip to Mt. Rainier to see wildflowers.
A nice collection of hikes on Mt. Rainier to see wildflowers.
A handy wildflower guide of Mt. Rainier.
Until next month….m
Nikon D4S, Nikkor 17-35mm (@17mm), f/16, 1/10 sec, ISO 200, EV -0.666

Shot of the Month – September 2017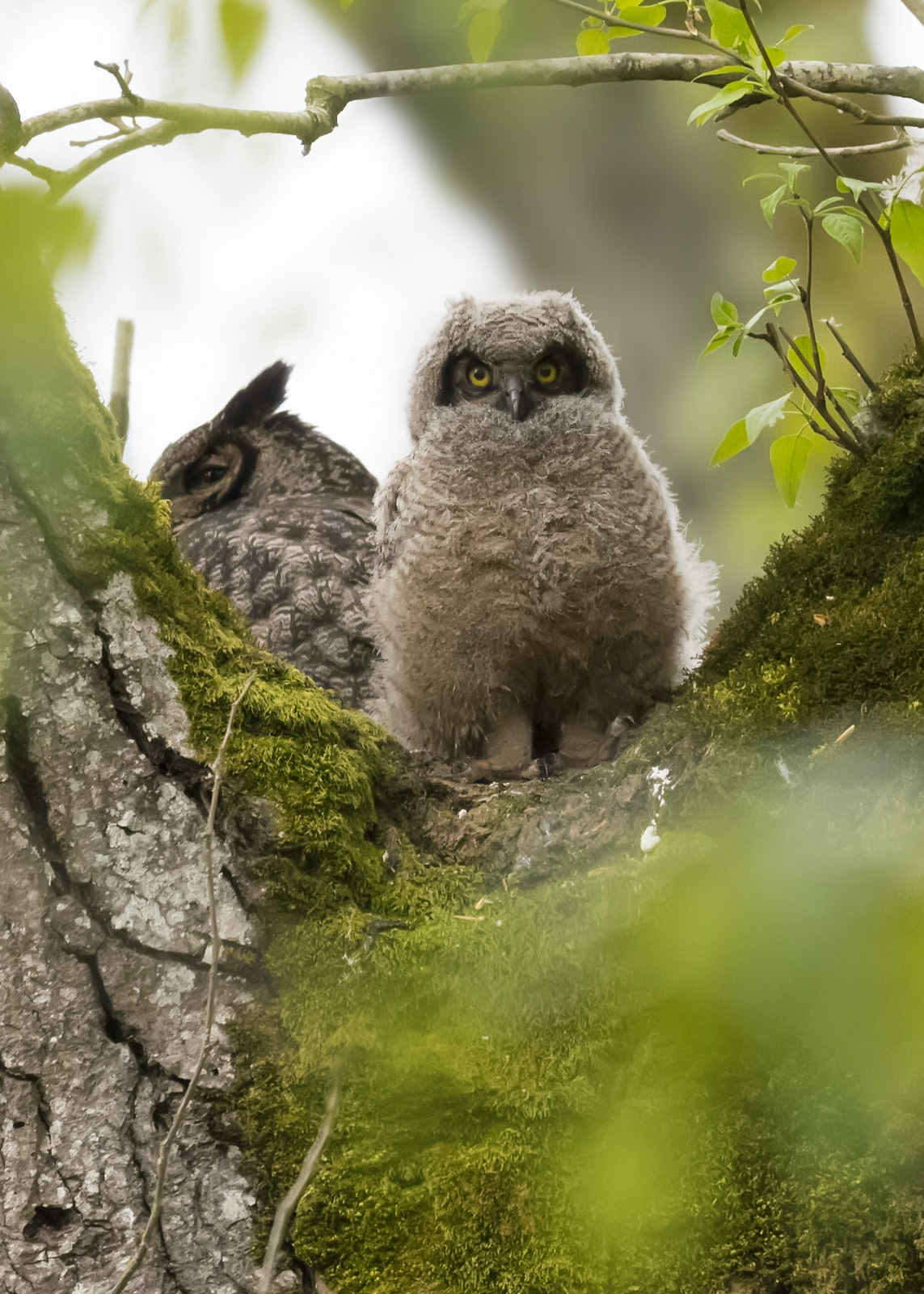 Despite all my early morning gallivanting in the woods over the years I had never seen a Great Horned Owl (GHO).  I find this even more astounding having recently learned that the GHO is THE most common owl in America.  If you live in North America then there is probably a Great Horned Owl family living in a tree not far from your house.  These owls are incredibly adaptable and can live just about anywhere and can be found from the Arctic to South America.
The GHO is a big bird – it is the second heaviest owl in North America and as such is a fierce predator and can take prey much larger than itself.  These owls normally begin nesting weeks or even months before other raptors – here in Washington State GHO chicks typically appear in February!  Keeping eggs warm during the winter is very difficult and challenging.  Why take such a risk and not just wait till later in the spring like most birds?  Well, given the large size of the species, the chicks need more time to grow and develop into young adults.  Also, young GHO's must master complex hunting maneuvers.  By hatching early in the spring they maximize the time available to practice flying and improve their hunting skills while the weather is mild and prey is abundant (source).
GHOs typically nest in trees such as cottonwood, juniper, beech, pine, and others.  They usually adopt a nest that was abandoned by another large bird, but they also use cavities in live trees, dead snags, deserted buildings, cliff ledges, and human-made platforms.
Fun fact: As a rule, no owl species builds its own nests.  I didn't know that, either. (source)
This year I went from never seeing a GHO owl to having the good fortune of finding not one, but two GHO nests.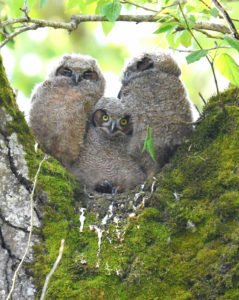 In Nisqually NWR (an hour south of Seattle) I found an owl family with three chicks.  As you can see, in their youth they are adorable fluff balls.  The Nisqually family was raised in a cavity in the tree though from time to time the chicks would come out and stand on this fork in the trunk and give us a view.  Here to the right you can see one of the rare moments where all three chicks can be seen at once.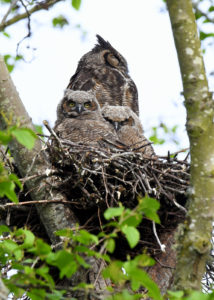 In the Skagit Wildlife Area (about an hour north of Seattle) I  found this family on the left with two chicks.
Despite the wide distribution of these wonderful owls, we rarely see these denizens of the night.  Many people do hear their classic owl Hoots either early in the morning or at night.
If you are fortunate enough to find a GHO nest do take care.  GHO adults, monogamous for life, are dedicated parents and both male and female will stand guard over the chicks. The male typically roosts nearby, out of sight, but from a location where he can watch over the nest.  The female alone incubates the eggs  while the male will go off to hunt and bring food back for his mate.  GHOs will defend their nest with great vigor and they have been known to attack humans that wander too close to a nest.
You've been warned…
Until next month
Nikon D500, Nikon 600 mm f/4, 1/500 sec, ISO 2200, +2 EV

Shot of the Month – August 2017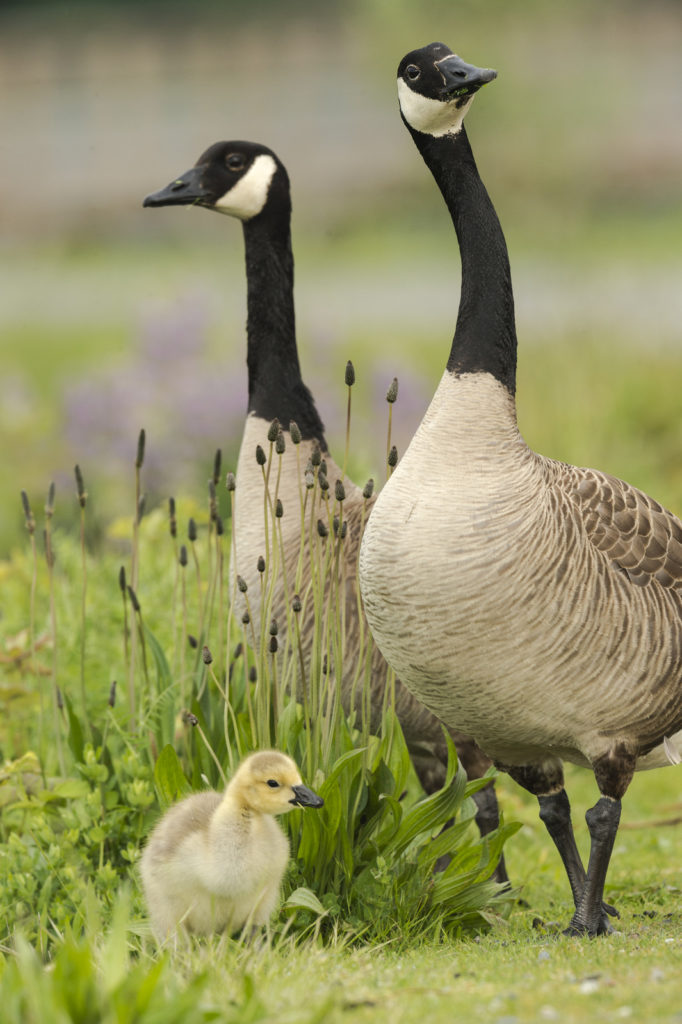 To be honest, I am not big fan of Canada Geese.  As a photographer I am drawn to capturing species that are elusive and rarely seen.  This ubiquitous waterfowl seems to be EVERYWHERE which, unfairly or not, bores me.  Also, visually, I don't find them all that interesting.  Black and white with a side of Bleh.
On many an occasion I have been in the field and detected movement and quickly readied my camera.  But once I saw those common features, a quick sigh would follow, "Just a Goose," and a feeling of chagrin at the false hope of something special.
They are my avian Rodney Dangerfield  — they get no respect.  (For the uninitiated, Rodney Dangerfield was a comedian that made a very successful career providing numerous examples of how no one respected him: "When I was born, the doctor came out to the waiting room and said to my father, 'I'm very sorry.  We did everything we could but he pulled through.' "   Here is a small sample.  Rodney is also famous for his roles in Caddyshack, EasyMoney, and Back to School).
But I digress.
The point is, I never imagined that I would post a Shot of the Month featuring a Canada Goose.
But then this lovely little scene happened.  Usually it almost impossible to properly expose a Canada Goose due to the strong contrast between their black and white features.  On this cloudy day the light was soft and and allowed the details of the feathers to come out.  And then we have that adorable little fluff ball of a chick.  Can't argue with that.  And I like the family moment as the ever watchful parents guard over their little one.  The bend of the neck really adds something.  I love the collection of plants in the front and then the layers of out of focus colors in the background.  The purple adds a little zip to the composition.
And voila, put all the different elements together and we get a very pleasing image.
Canada Geese are native to the arctic and temperate regions of North America, though they will sometime migrate to parts of northern Europe.  They have also been introduced to the United Kingdom, New Zealand, Argentina, Chile, and the Falkland Islands. As to WHY they would do that, I have no idea.
Normally these geese will fly south for the winter; as a child I remember seeing the large V-shaped formation of birds flying overhead — a clear sign that winter could not be far away.
But with the changing climate, the nature of human settlements, and farming patterns, many Canada Geese are beginning to shorten the distance they fly or, increasingly, becoming permanent residents of parks, golf courses, and suburban sub-developments.  Changes in farming practices leave more waste grain available for the geese making it easier to stay put.  Also the proliferation of lawns and grassy fields are ideal habitats for Canada Geese — grass is part of their diet so their buffet has grown in size, and the manicured lawns are attractive because they provide a wide, unobstructed view of potential predators.  As a result these birds are especially abundant in parks, airports, golf courses and other areas with expansive lawns.
Canada geese were not always so numerous.  In the early 1900s they were almost pushed to extinction due to over-hunting and loss of habitat.  Tougher hunting policies and other programs helped stem the tide,  and the bird's ability to adapt to the nature of human settlements has allowed the Canada Goose to not only thrive but in some areas, become a pest. For example, just fifty geese can produce about 2.5 tons of poop in a year.  A flock of Canada Geese can turn your local park into a very icky slip and slide.  We now have about six million Canada Geese in the US.  Dat's alotta poop.
Because of the large size of Canada Geese, they are a major concern at airports because they can cause fatal crashes when they strike an aircraft's engine.  Remember the "Miracle on the Hudson" when a US Airways plane that took off from Laguardia Airport in New York in 2009 and had to ditch in the Hudson River?  As the plane took off it collided with a flock of  Canada Geese.  Luckily Captain Sullenberger (Sulley) managed to execute a perfect "water landing."
So, I am still rather ambivalent about the world's largest goose, though I do have to admire its resilience — back from the precipice to pest in just a hundred years.  Uh, well done!?
Until next month…..
Nikon D4S, Nikon 600mm, f/11, 1/200 s, 1.4x TC, ISO 800, EV +0.5

July 2017 – Shot of the Month
The tallest mountain in Washington state, Mt. Rainier, is famous for its glorious summer wildflower blooms.  In 2016, with our first summer in the state approaching, we decided that we should make the pilgrimage to catch Mother Nature's wonderful show. Such a trip however would push me out of my comfort zone on several fronts — first, I am not a fan of mountain hiking (at least not with many pounds of camera gear); and second, I rarely shoot landscape photography so I tend to struggle to "find the the shot."
So we cobbled together two long weekends to toil up and down mountain trails in search of colorful flora.  I lumbered under the weight of my gear and generally grumbled most of the way.  Lots of work for little reward.
However, on the next-to-last day we found a mother marmot with two youngin's right by a popular trail.  These Hoary Marmots (HMs) were very comfortable with humans and we could readily watch them as they came and went from their burrow and explored the stream and hills nearby.  As an "Easterner" I was quite excited by my first marmot encounter.  I ran back to the car to get my big lens to allow me to photograph these guys properly.
Photographing critters, "ahhhh…back in my element."   I love this shot in that it gives a nice view of the marmot and offers a small hint of the bouquet of flowers that were beginning to cover the meadows and surrounding hills.
I have since learned that marmots were actually not that exotic to me — in fact I had grown up around marmots my whole live while in Pennsylvania.  How so?  Turns out that what we call ground hogs (aka woodchucks) in the east are also a type of marmot.  There are 15 marmot species, classified as large ground squirrels by scientists,  and they are spread far and wide across the Northern Hemisphere in places that include Canada, the US, Europe and across parts of Asia.  Most of these species prefer Alpine habits but some can be found at lower elevations.
The hoary marmot, as photographed here, can be found in the mountains of much of Alaska, western Canada, and the extreme northwest of the United States.  The HM is a social creature that can live in colonies of up to 36 individuals — a colony can be spread across 35 acres and includes a dominant male. This group living is quite different than that of my childhood woodchucks who live solitary lives.
These cute rodents are vegetarian and live on leaves, grasses, sedges, and these rascals will devour the gorgeous wild flowers before your eyes with no shame.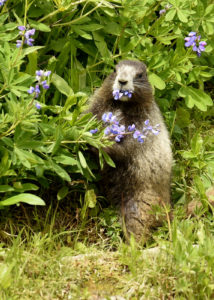 Though, in their defense, while the sign says "Stay off the flowers," it actually says nothing about not eating them.
Until next month….m
Nikon D4s, Nikon 600 mm, f/8, 1/640 s, ISO 800, +0.5 EV

Shot of the Month – June 2017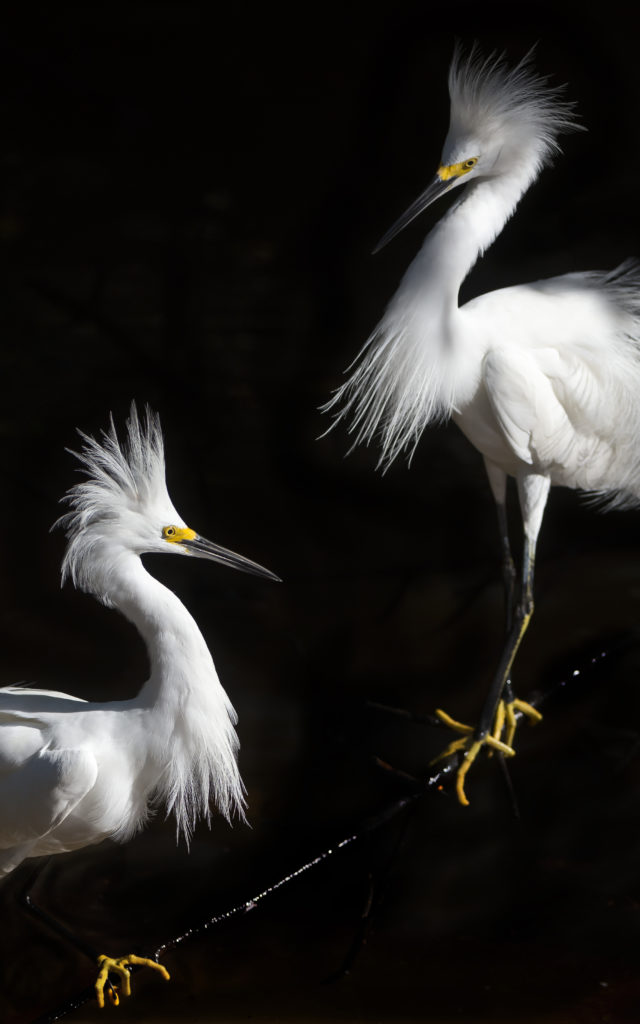 So no, I don't have a studio — this image was actually shot in the wilds of nature at the Ding Darling National Wildlife Refuge.  These lovely Snowy Egrets (SEs) had gathered en masse with a large collection of other herons and assorted egrets during a feeding frenzy along a dark mangrove channel.  In order to properly expose for the pure white bird, in bright sunlight, I had to significantly underexpose the shot — which produces this dramatic "studio" look.
This image was shot in December when the SEs are beginning to morph into their exquisite mating plumage — during this period they develop long wispy feathers on their backs, necks and heads.  As the season progresses the coloration on their faces will transition from yellow to reddish.  And those bright yellow feet will take on a richer orange-yellow hue.
In the late 19th century Snow Egrets were almost wiped out as they were decimated by hunters collecting the breeding plumes for use in women's hats.  In 1886 these plumes fetched $32/ounce which was twice the value of gold at that time.  During the "Plume Boom" hundreds of millions of birds were killed — for example from 1901 to 1910 over 14 million tons of feathers were shipped to the United Kingdom with a value of 20 million pounds.  Wow, that's a lot of feathers. (source)
And a lot of dead birds.
Fortunately, the Migratory Bird Treaty Act of 1918 curtailed much of this slaughter and today the population of Snowy Egrets and other herons have improved quite a bit.
Snowy Egrets eat mainly fish, frogs, worms, mice, crustaceans and insects.  They typically stalk prey in shallow water, often running or shuffling those brightly colored feet, flushing prey into view.  They will also sometimes catch prey while "dip-fishing" as they fly with their feet just over the water.
Snowy Egrets are are permanent residents in most of South and Central America.  In the US they can be permanent residents along the Atlantic coast north to Virginia Beach, Virginia, along the Gulf Coast and along the Pacific lowlands from central California southward.  During the breeding season snow egrets can be found as far north as Rhode Island.
With its lovely, delicate and refined looks one could easily imagine a Snowy Egret as a runway model.  Rather ironic given that high fashion almost wiped out this elegant bird.
Silly, terrifying humans…
Until next month.
Nikon D4s, Nikon 200-400 mm (@ 200mm), f/4, 1/4000, ISO 400, -1.5 EV

Shot of the Month – May 2017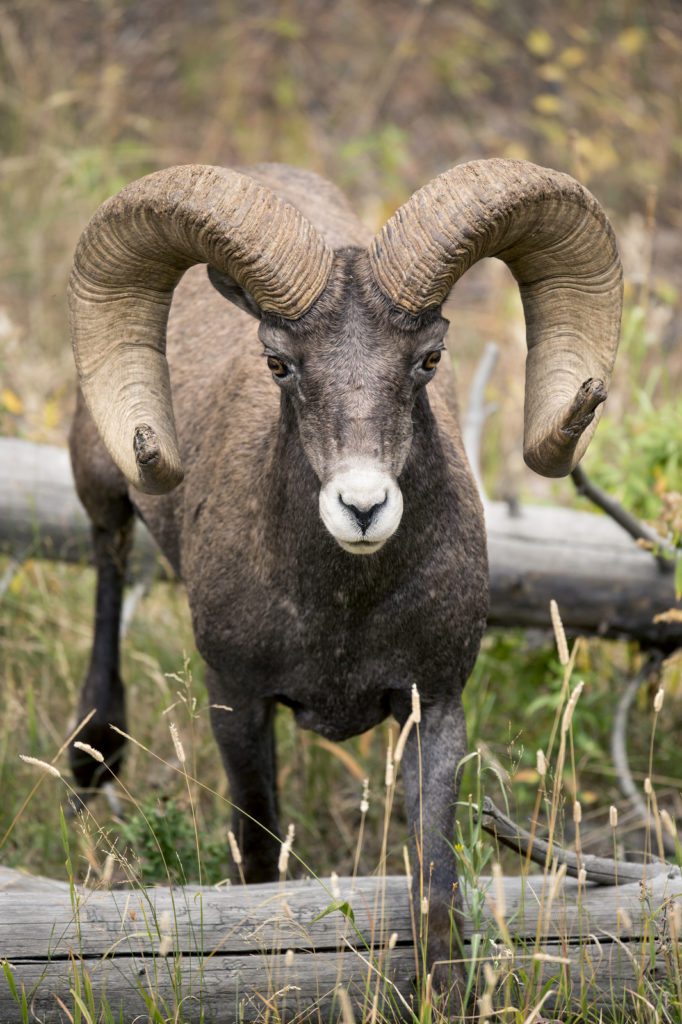 This month we visit with a ram that fully embraces his name – the Bighorn Sheep (BHS).  We found this big fella in Yellowstone National Park and our guide mentioned that this was one the largest set of horns that he had seen in 30 years of visiting the park.
As I discussed in a previous post, "Bighorn Sheep" is a rather chauvinistic name for the species as the females also have horns, though they are not nearly as big, nor curved.  The lads get all the attention, a-gain.
These rams definitely know that they are impressive — this one walked by me with his shoulders back, chest out and his head raised, as if saying, "Yes, soak it in, I am magnificent."
Those horns can way 30 pounds, equal to the weight of all the other bones in the ram's body.  A ram can weigh from 174 to 319 pounds so those horns can make up about 10% of their total body weight.
Mature males spend most of the year as part of a bachelor flock.  Ahhh, those were the days…
The rams join the female groups in November when the mating season begins. The BHS rams are most famous for their epic head clashing battles to win the right to mate with the females.
These fellows will smash their heads together as they hurl themselves at each other at 20 mph — generating about 800 pounds of force – sixty times more force than needed to kill a human.  The rams can survive these violent collisions because their skulls have two layer of bones above the brain that act as shock absorbers.  The sound of these collisions can be heard from a mile away.
These battles can last for 24 hours until one sheep decides that he has had enough and simply walks away. Wait, that's it??!!  I expected a denouement with a bit more operatic panache given the fury and scale of the spectacle.
Oh well.  The clash of the Mountain Titans ends with a quiet, "I'm out."  I suppose that there is a certain civility in that.
You can catch the mind numbing show here.  (I wasn't able to embed the video)
The prelude to the fight can be seen below (very nice footage).
In case you were wondering, the title of this post is a nod to Bam Bam Rubble…an adorable character from my youth that seems to capture the simple essence of a bighorn ram's approach to life…
Until next month…m
Nikon D4S, Nikon 600mm f/4, 1/800 sec, ISO 800, +0.5 EV

Shot of the Month – April 2017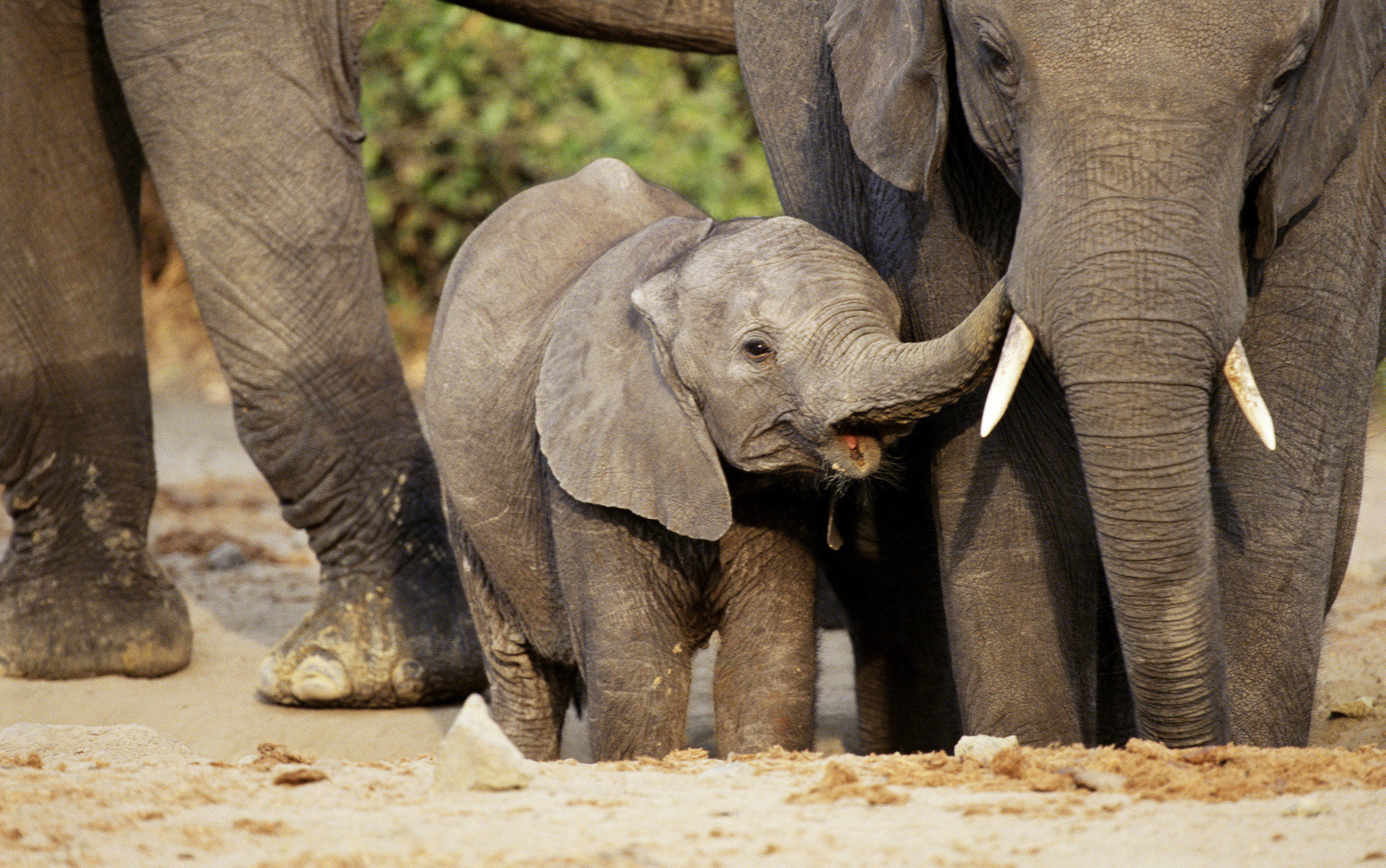 Another shot for the "Awwwl" Collection.  For those of you not keeping score at home, this collection includes huddling hyrax, a burrowing owl, loon chicks with mom, and a pika.  This image is a favorite among moms everywhere and is one my most popular cards.  I photographed this adorable baby elephant in Botswana.
Female elephants live their entire lives as part of a tightly knit family group.  Life in the herd revolves around breeding and the raising of calves.  A new calf is typically the center of attention for all herd members.  The little one photographed above must be pretty new — it is so small that it could easily walk under the elephant behind it.
Females are ready to breed at the age of thirteen, and will give birth after a 22 month pregnancy.  At birth all of the other elephants will gather around the newborn to touch and caress it with their trunks.  In the video below you can see a herd's reaction to a newborn.
Soon after birth the mother will select several full time baby sitters or "allomothers" from her group.  These allomothers will help in all aspects of raising the calf.  The more allomothers a baby has the more free time the mother has to feed herself and produce nutritious milk, increasing the chances of survival for the calf.  The allomothers also benefit by gaining experience on how to raise a calf which makes them better mothers when they are finally ready to breed.
Here you can see a whole herd come together to help a baby elephant that is stuck at a water hole:
Given all that love and protection, baby elephants seem free to enjoy life.  I have watched them play in rivers and they are just like human children at the beach.  They run and chase each other.  They splash one another and the teenagers knock the smaller ones over – all in good fun.  Check out this little guy (the fun starts around 0:35 seconds):
There is an African proverb that says "It takes a village to raise a child."  Gee, I wonder where the inspiration for that may have come from?
Until next month…

Shot of the Month – March 2017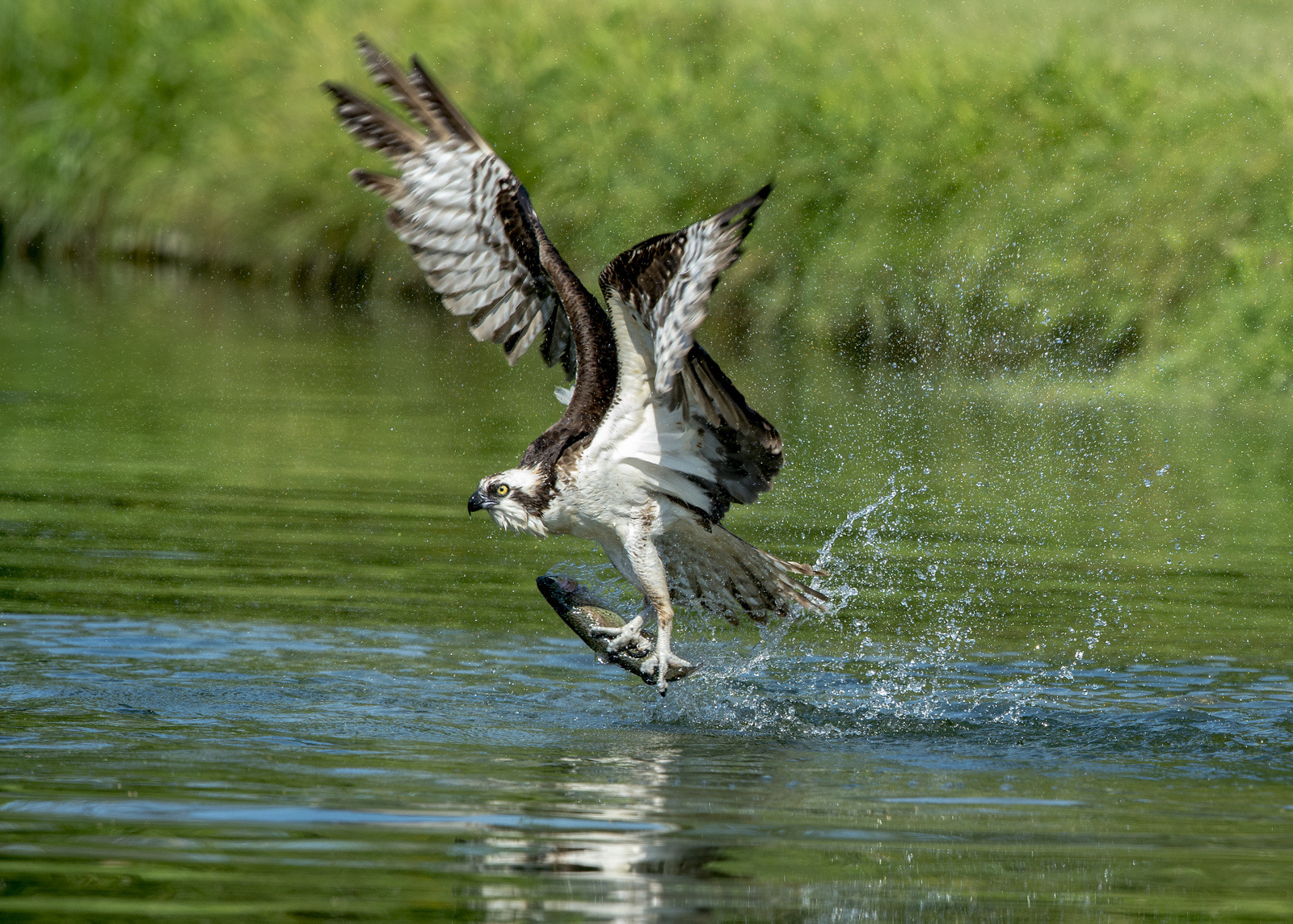 Here we see an Osprey doing what it does best — catching a fish.  This was one of the first images I ever captured of an osprey in action.  I have to confess however that this is not a completely  "wild" setting.  Let me explain.
A couple of years ago while living in Vermont I heard about ospreys that regularly visited a fish hatchery that was about an hour from where I lived.   The hatchery had an assortment of holding tanks that held fish from uber small to quite big.    The biggest fish, rainbow trout in this case, were held in an outdoor pond.  For an osprey, this was like shooting the proverbial fish in a barrel.
Initially the osprey parents would stop by to catch a couple of fish each day to feed themselves and the kids.  When the chicks were old enough to fly the parents would bring them to this pond to practice fishing.  I heard about the spectacle and spent a couple of weekends sitting by the pond to see what I could catch.  It was interesting watching the parents circling above as they called out to their offspring, seeming to implore them to give it a go.  It was easy to distinguish the parents from the newbies — the parent would circle briefly and dive in with great confidence and efficiency.  The kids, uh, not so much.  They would start a dive and then abort.  Come in for another try and pull up at the last second as they got close to the water.  Eventually, after numerous false starts they would dive in, occasionally catching a meal.
As for me, I had a grand ole time.  I had a front row seat and could see up close and personal how an osprey earned a living.
Ospreys are true piscavores — fish make up about 99% of their diet.  Given their love of fish, osprey nests are usually found within 12 miles of a body of water.  They typically fly about 30 to 100 feet above the water surface and use their exceptional eyesight to spot a meal.  Osprey tend to prefer shallow bodies of water since it can only plunge about three feet under the water's surface with its feet-first dives.  These hawks are pretty good at what they do and usually catch a fish in 1 out of 4 tries.  It takes an experienced adult about 12 minutes of hunting before making a catch.
The osprey's feet are highly adapted to facilitate holding on to its slippery catch.  Osprey can shift one outer toe to the back if needed to better grasp a fish.  No other birds of prey can do that.  Their feet also have barbed pads on the soles and the talons have backward-facing scales — all adaptions to help maintain a firm grip.  To facilitate an efficient flight back to the nest or to the preferred dining locale, an osprey will orient the fish headfirst to minimize wind resistance!
As they say, you can teach a man to fish, but he still won't be as good as an osprey.  Or something like that.
Until next month….
Here is a great slow motion video of an osprey dive:
Nikon D4S, Nikon 600 mm, f/8, 1/2000 s, ISO 800, -0.5 EV

Shot of the Month – February 2017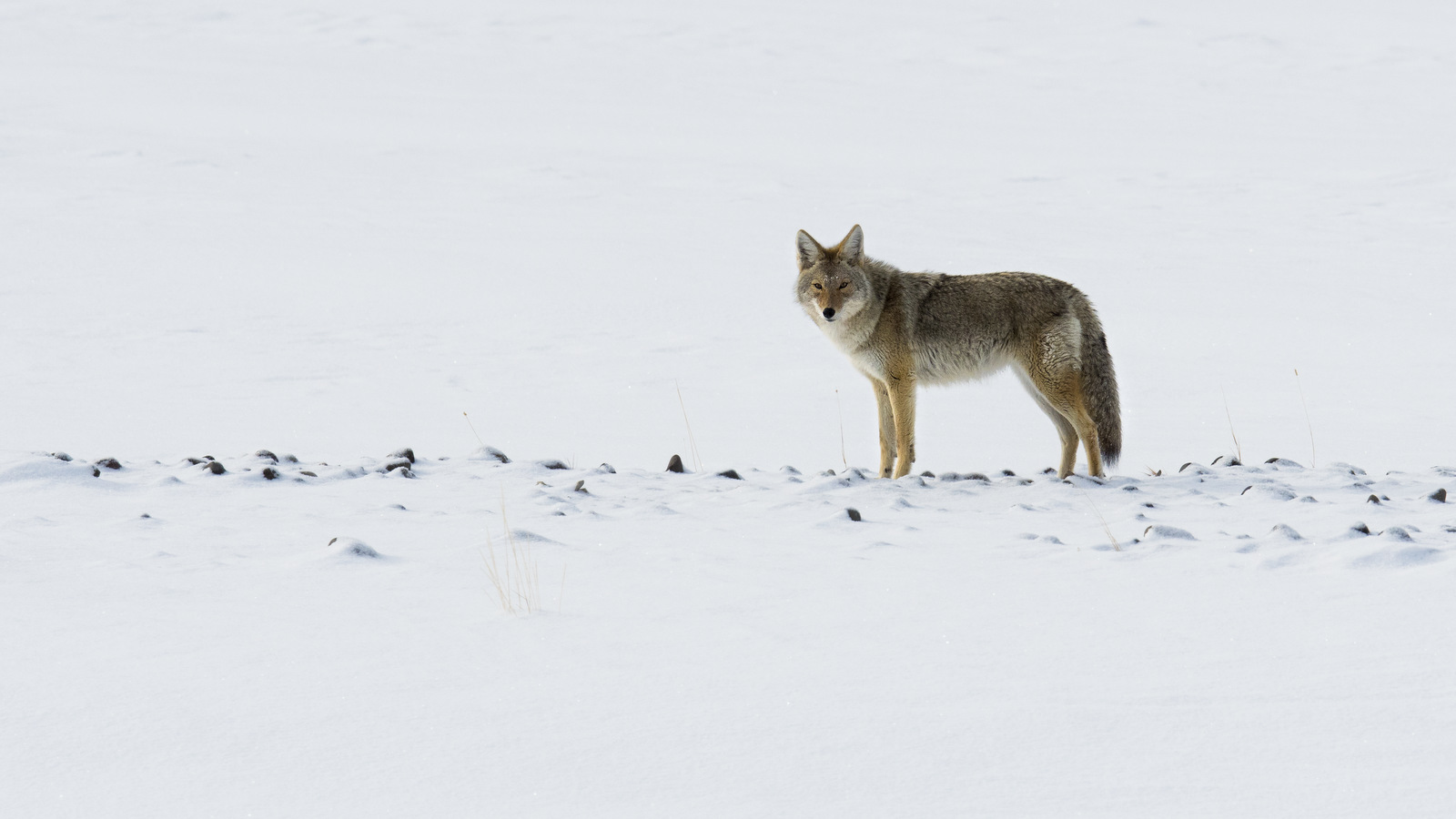 This month we visit with the natural world's "Unbreakable" star – the coyote.  I photographed this fine looking fellow in Yellowstone NP.  For the uninitiated, the film "Unbreakable"  is an American film about a man that learns that he has supernatural powers and basically, he can't be killed.  The Coyote, at least as a species, seems to have similar powers. (I recommend the film, if you haven't seen it)
In the last two hundred years we have done a wonderful job of wiping out many of the continent's top mammals.  Fifty million bison were reduced to about twelve thousand.  The grey wolf used to inhabit the entire United States but is now largely extinct from most of the country.  The North American cougar was extirpated in the eastern half of the country by the beginning of the 20th century.
And we have been working overtime to kill off the coyote.  We kill a coyote every minute in the United States.   I'll repeat that morsel, in case you blinked.
We kill a coyote every minute in the United States.  In other words, we kill about 500,000 coyotes each year.
We are very determined to wipe this animal out.  In the 1920s the US government created the Eradication Methods Laboratory who sole job was to kill predators that we didn't like.  Congress passed a bill in 1931 allocating $10 million to the lab to launch a poison campaign.  From 1947 to 1965 the agency killed about 7 million coyotes using blanket poisoning, sometimes putting out up to 4 million poison baits at a time.  Since the 1970s this job was handed over to the Wildlife Services Agency, which is part of Department of Interior.  Since 2000 the agency has killed 2 million mammals (coyotes, wolves, and cougars) and 15 million birds.  More recently the government uses airplanes to shoot about 80,000 coyotes per year on behalf of the livestock industry.  Many states have a bounty on coyotes and you can pretty much kill coyotes at will in many places.  In some states they have contests to see who can kill the most coyotes in one day.
Normally, this is the part where I tell you how dire the situation is for the coyote.  How they are highly endangered and near extinction.  Not this time, my friends.  As I mentioned, the coyote is unbreakable.
In fact, the coyote is THRIVING.  Never been better, thanks for asking!
How is that possible??!!
The coyotes' superpower is adaptability. They are masters of exploiting the changes in the environment caused by humans.  When the settlers arrived coyotes only lived on the western plains but once we killed off the wolves everywhere else the coyotes began to migrate into new territories and they now occupy most of the continent.
Coyotes historically were smaller than wolves and couldn't compete with them.  In the 1800's the wolf population was at a low density due to human persecution and wolves had a difficult time finding a mate. As coyotes migrated east the wolves took the next best option and mated with their smaller "cousin".  As a result, the northeastern coyote-wolf hybrids were bigger, stronger, and able to kill larger game.  This allowed coyotes in the east to be able to kill deer, something their smaller relatives in the west are unable to do.
Coyotes have also moved into urban centers and seem to love life in New York City, Washington D.C., Chicago, and Los Angeles, to name a few of their favorite haunts.  Turns out that cities are pretty safe because people are not shooting, trapping or poisoning them there.  The coyotes adapted their diet to eat squirrels, household pets and discarded fast food.  In rural America coyotes live for about 2 to 3 years while in the city a coyote can live for 12 to 13 years!
Under normal conditions coyotes have 5-6 pups in a litter.  However, when the coyotes feel persecuted they increase their litter size to 12 to 16 pups.  You can kill off 70% of coyotes one year but by the next summer their numbers will have recovered.  They use howls and yipping to create a kind of census of the coyote population.  If their howls are not answered by other packs, it triggers an autogenic response that produces larger litters. (Source)
Coyotes also developed a fission-fissure adaption to help them survive.  If life is going well, coyotes will live and hunt in packs.  However, if  they are persecuted, say from wolves or humans, then coyotes will abandon pack life and scatter across the landscape in singles or pairs.  For example the poison campaign of the 1970's really helped scatter coyotes across the country.
There you have it, another sad tale that makes me embarrassed and ashamed to be a human.  But congrats to the coyote for stickin' to the man.  I'm rooting for ya!
Check out Project Coyote to learn how you can get involved to stop the slaughter of coyotes and MANY other animals.
For more outrage, click here:
National Geographic article on the Wildlife Services Agency
Washington Post article on the Wildlife Services Agency
I got much of my information for this post from these great articles.  Highly recommended:
How the Most Hated Animal in America Outwitted Us All (National Geographic article)
Rise of the coyote: The new top dog (Nature Journal article) 
Until next month…..
Nikon D500, Nikon 600mm f/4 lens @ f/8, 1/2000 s, ISO 400, EV +0.667